The world is eagerly waiting for the release of Android 14. It will be the latest version of the most popular mobile operating system. We have seen some major upgrades from the last couple of versions of Android. And the expectations are very high from the upcoming Android 14 as well for some major upgrades and fixings. In February 2023, we got the first developer preview of this version. Since then, Google provided us with some beta updates and released the latest Android 14 beta 5.1 this August.
These previews are compatible with Pixel phones and can be installed to get a preview of the actual version. From the previews, we can see some major upgrades are coming and we will get a better through this version.
Here are the expected features of Android 14:
1. Android 14 Easter egg
Android 14 Easter egg is a new addition in this version. When Android 14 beta 4 was released on 11th July, 2023, it came with this new feature which presented us with a hidden game. The nature of the game is on space travel. The Pixel owners with Android 14 beta 4 can access this for experience.
Hop on to Settings.
Then About Phone and Android versions.
Tap thrice the Android version.
You would see the Easter Egg.
Press and hold the Android 14 logo. It will start zooming with haptic feedback.
After holding for a specific time, the game can be played by maneuvering a rocket.
2. Select certain photos and video
This feature will be a great addition as it might provide some sort of privacy to the users. When any app asks for permission to access the phone library of photos and videos we only have two options to confirm: "yes or no." Even if you want to upload a single photo or video, you have to permit the whole library. And the app has access to all your photos which might not be a good thing.
But with this Photo Picker option, you can permit an app to access only the photo or video you select. So, the app will not get access to your entire photo library and will offer privacy.
3. Improved battery life
Battery is always a major concern for Android smartphone users. A relatively fast-drained battery can limit your usage of the phone when there is no way to charge it. Google is taking this matter seriously and putting an effort to improve the efficiency of Android to reduce battery consumption rate. The downloads, uploads, and background tasks should be more optimized to provide more battery life. With some tricks and tweaks, they are ensuring to give a smoother experience to the users.
4. Notification flashes
The notification flashes feature will be extremely useful when you do not hear the notification sound. And it will especially help people with hearing problems to alert them when they receive a notification. This feature of Android 14 will enable you to turn on both camera flashes and screen flashes or one of them when receiving a notification.
Steps
Open Settings and then Display.
Select Flash notification.
Toggle on Camera Flash and Screen Flash or any one of them.
You can also select the color of your screen flash and preview it to know how it looks. There are no customization is available in this feature. You can only make it turn "On or Off." You can use it when do not want your phone to make any sound with any notification and need silence.
5. Magic Editor & Compose
The features will certainly start to excite the users as will get the assistance of AI for editing Photos and Composing Messages. The Magic Editing tool will allow you to make some of the most complicated editing with some simple tapping on the photo. Stuff like removing or adding any object to a photo will be very handy.
And the Magic Compose can assist you in delivering some suggested responses to a message. This AI-based feature will save you time and you can get texts without any mistakes. It will provide users with certain styles like Chill, Excited, and Formal to compose a message. It will help you to showcase the mood of the text.
6. Customization of Lockscreen
With the help of this feature, users will be able to customize their lock screen. It is one of the major changes that Android 14 will provide us. This will enable you to change the look of your phone lock screen. The modifications are included with wallpaper, clock style, and app shortcuts. So, you can personalize it to your liking and change the view of your lock screen the way you feel better.
7. Tick removal to unlock
To unlock the device, we need to enter the PIN and the press tick to open it. After upgrading to Android 14 there will be no need to press the tick button after putting the PIN. Just simply enter the PIN and the device will be unlocked. However, it will be only applicable on the six-digit PINs or more. You can toggle the auto-confirm unlock to enable or disable it from the Security and Privacy section. If you do not like the feature then you can revert to the tick button and use it when unlocking.
8. App Pair
Here is another new feature that you will get in Android 14. The App Pair feature will allow you to launch and use apps in pairs, side by side in a split-screen view. You can also maximize or minimize them together. You might also be able to save the app pairs in that operating system and a home screen shortcut can be added to the pairs. It will allow the users to reopen the pair from the shortcut quickly and easily. It can be a very interesting thing for some users and the users of Android tablets.
9. Predictive Back Gesture
Users might get a back gesture feature by default in Android 14 to swipe and look at the previous screen. Apps in Android use layers to remember their pages. If you get the fully functional back gesture then you can back swipe slowly to see the layer beneath the current page. It will help you to remember from which page you came in the current one.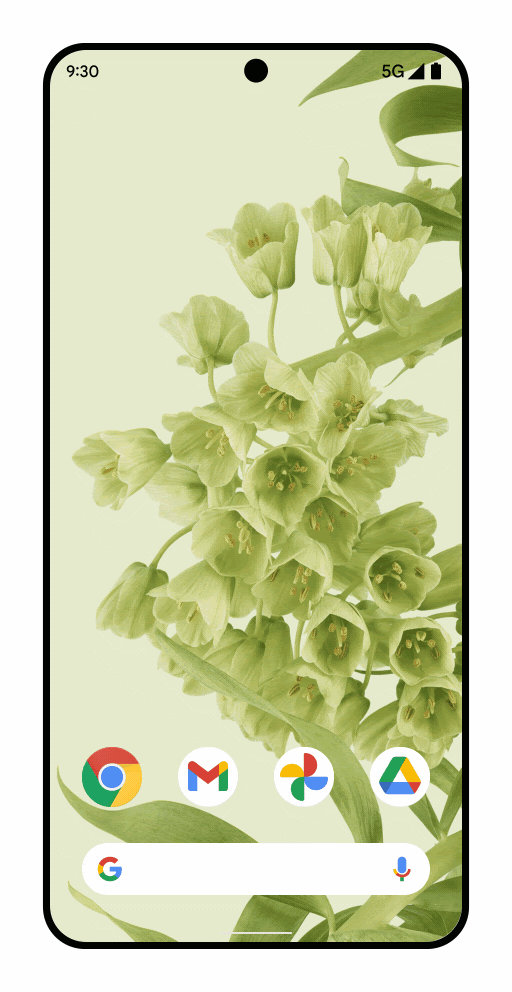 Hopefully, Google is giving this feature a priority and we will get the predictive back gesture once we hop on to Android 14. Right now this feature sometimes takes to the home screen the previous page or an app. We hope we will get the right solution in the end.
10. App Cloning
There is nothing concrete that the feature will make an appearance with the Android 14 release. It is most likely a work in progress by Google and will expect the feature shortly. With app cloning, you can use two different accounts at the same time in an app. This might be a very helpful thing for many users.
Right now some OEMs offer this feature for certain apps for cloning. If Android 14 provides this feature then it will work like Wonder and you do not have to buy phones from OEMs with that feature. There is no proper news about the feature right now and Google is surely testing it.
11. New Find My Device
Users will get a new Find My Device experience as per the company announcement at Google I/O 2023. To match the latest design language of Android, the Find My Device app recently got a UI overhaul. The company will provide some new features to this app. Before it, only GPS-enabled devices could be located on Android phones with internet connectivity.
With such improvement, the Find My Device app in Android 14 will offer support to a wider range of devices. Using other Android devices in the network will allow you to find your phones and accessories. It will be very helpful for the users to locate their devices more conveniently.
12. Custom Wallpapers
We can always expect some customization features from Android because it is very good at it. Now you can make customized wallpapers with the help of Generative AI, Emoji, and Cinematic wallpapers. You can create emoji wallpapers by selecting your favorite emoji and some colors to create interactive wallpaper by mixing up both things. With some prompt texts, the generative AI system can create unique wallpaper options that are exclusive to your device as per Google. Also using your image you can create an artificial parallax effect which is shown by Google on the stage at Google I/O 2023.
13. Large Fonts
Large font is something that Android has been providing for a long time. It helps us to read small texts with an increased size. And now with Android 14, the large fonts will be even bigger to assist you in comfortable reading. Previously, Android 13 allowed up to 130% font increase only on Pixel phones.
With Android 14 font size can be scaled up to 200% which will be great for the users. As per Google, it will be integrated with a non-linear scaling system. That thing will provide a smarter way by preventing the scaling of already large texts. You can only scale up the smaller texts.
14. Regional Preferences
The Regional Preference feature will be very helpful to Android users as it offers some personalized settings. With the dedicated settings section on Android 14, you can change the first day of the week from Sunday or Monday. Or, you can select Celsius or Fahrenheit as your preferred one. The numbering system and the measuring unit can be customized at your will.
Android 14 will also provide better support for gendered languages like German and French with Grammatical Inflection API. Based on region, better language customization will be improved with a tweak in that version.
15. Not compatible with old apps
Android 14 will not support the older apps and users can not be able to install such apps. It is one of the major differences from Android 13. It will enhance the security of Android devices and tighten the security loopholes. Old apps are often targeted by malware as they do not take advantage of more advanced security and privacy protection. That is why such apps are risky for device security.
As per Google, this restriction will target the older apps that are created for Android 5.1 and the earlier ones. So, users will not be able to install older apps using Android 14. However, the older apps that already exist on your device will remain after upgrading to Android 14. But, the new devices coming with Android 14 will not be able to download such apps.
16. Health Connect Integration
The Health Connect app can be a very useful tool to track and collect all your health and fitness-related data in one place. Over 100 fitness apps are already integrated into Health Connect by Google. Users can monitor any kind of health-related data and track fitness routines in one place. They even have the control to permit access to any app in this system.
Right now the app is reachable on Google Play Store as a beta version. It is expected that the Health Connect app will come with Android 14 as a pre-installed app and you do not have to download it for usage. Automatic updates will be also there.
17. Bloatware Finder
Bloatware is a major issue in the modern day. You can find many Smartphones that come with too much bloatware which is very annoying and risky in some ways. When you start using your new phone, sometimes a bunch of software is downloaded and installed behind the scenes.
To prevent such behavior and get rid of those unwanted software Google is constantly working on a feature. This feature is currently known as "Apps installed in the background." This thing can allow you to uninstall the bloatware or the secretly downloaded apps by showing them to the users. With hidden developer flags, this feature needs to be activated. We just hope that the feature comes with the stable Android 14 release.
18. Satellite Connectivity
Satellite connectivity for phones has been making a noise for quite some time. With the iPhone 14, Apple has launched Emergency SOS via Satellite fuelled the topic a little more. To address the people Google also announced satellite connectivity in Android 14. This announcement came through a tweet from Google executive Hiroshi Lockheimer. They did not elaborate it further and it is unclear what that exactly brings to the table.
Connectivity like this can benefit remote areas where cellular service is very bad. So, native support will provide a better service and make things affirmative for the service providers and smartphone brands. Time will tell us when and what we are getting.
19. Data Sharing Updates
The Data Sharing Updates can become very handy for the users to know any changes in the privacy policy of an app. When we accept the permissions and privacy policy of an app we do not get any information when they change the policy. But in Android 14 you can get such information with this update. A pop-up box will provide you the information about any changes made by the app.
It will also help you to get notified if any app shares your location data with any third-party platforms. The box will highlight the data in such cases. This update will provide more privacy and security to the users and they will be informed of any unethical things like that. So, you can act accordingly.
20. Support Large Screen Compatibility
Improved large-screen compatibility is essential to provide a better service to the users. Google indicated that the initial developer preview was helpful Developers who are working to create an app can benefit from adapting gracefully to different screen sizes. For the developers, many tools and design advice are there to make it more compatible.
With this support, users could get apps that can perform well on different devices like smartphones, folding phones, and tablets. This thing could decrease the gap with Apple which has an ecosystem of apps that perform smoothly on different devices like iPhones, iPads, and MacBooks.
21. Ultra HDR Images
According to Google via a blog, support for ultra-high dynamic range (HDR) will be there in Android 14. That will provide a vibrant image with greater contrast as a result because it will retain more information. The default camera app will be able to access this feature.
Just like Apple supports HDR video for social media apps, Google is also working on it to provide 10-bit HDR video to social media apps like Instagram. And they are also trying to enable the Night Mode. It will certainly help the creators of content development. Users will get more quality photos with the assistance of this feature.
Some other features
Users might be able to record a specific app with screen recording if the feature ultimately comes with Android 14.
The Dragdrag-and-rapture with different apps may be available to share text and images.
Using your Android device as a high-quality webcam could be a possibility.
You can hide your pin from shoulder surfers with display tweaks.
When you use wired headphones, lossless support will be provided by Android 14.
The encrypted cellular connection can be selected by the user. Disable support for null-ciphered cellular connection in Android will be allowed by Google.
An improved share option will be there for the users.
Improved support for authentication with passkeys enabling biometric login instead of using passwords for more apps.
Final verdict
The above-mentioned points are the most notable features users might get when stable Android 14 is available. We can expect the release of this and androids at any time in the coming days/months. We just hope Google launches it as soon as possible with a great user experience and better feature improvements.
The expectation is very high with Android 14 and the beta versions of it provided us with a better look and what we can expect from it. After the latest Android 14 beta 5.1 users cannot wait to get their hands on the furnished version.